What is a shop vacuum?
A shop vac is basically the same device as your ordinary home vacuum cleaner but with a few important differences.
Mainly, it is designed to be a lot more heavy duty and clean tougher stuff, like saw dust, concrete dust, wood shavings and other large debris. Also, its more robust design makes it more suitable for workshops and garages. They are often called – wet and dry vacuum – because of their ability to suck liquid as well.
Besides cleaning your workshop after making a mess while doing all those wonderful and messy things it also helps you make less mess in the first place.
Most modern power tools come with the ability to attach a vacuum hose directly to them, collecting all the dust they create, while they make it.
And why should I care about dust collection?

It doesn't take a PhD to understand how bad inhaling dust or sawdust can be for your health.
And while you can and you should wear a mask (as well as ear and eye protection) while working with all those power tools, it's pretty obvious that preventing all that dust from getting anywhere near your nose and mouth is the best prevention you could ask for.
What's the deal with Power Tool Activated Vacuums?
Tool Actuated Vacuums are kinda like having a vacuum combined with an extension cord. You plug the vacuum into the power outlet and plug your power tool into the vacuum.
And the best part is, as soon as you turn on the tool, vacuum turns on as well, sucking all that dust as you're making it.
And when you turn the tool off, vacuum goes on for another 10-20 seconds to make sure no dust gets left behind.
Shop Vac for a craftsman on a budget – Karcher WD5/P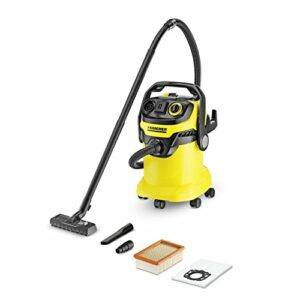 Kracher WD5/P is a dream come true for a woodworker that wants all of the benefits of a high-end dust collection vacuum without having to break the bank to get one.
It's an extremely rare thing to get Power Tool Activation feature on a vac that's under 200 USD.
As a matter of fact, this is the only one I know of.
Good stuff:
Semi-automatic filter cleaning
Built-in Blower function
Power outlet for connecting tools
6.6 Gallons Capacity
2 Year Warranty
The only downside of this vacuum is that it only supports power tools up to 6 amps, so it can't support some of the more powerful tools.
Karcher WD5/P Buyer Reviews
So I purchased this vacuum when it went on sale and got a really good deal. I use it for some of my sanders and my Festool Domino. The suction is great and the added power outlet to power smaller tools is great as well. The added filter really traps the finer particles. The only drawback is it uses a propritary hose connection for the end of the hose that plugs into the vac itself. This makes it difficult to use a Festool or Bosch hose. However, if you purchase a 2 1/4 to 1 1/4 reducer, you can connect the Karcher hose to the Bosch hose then connect to your tool. The reducer is only like 6 bucks so if you already have the hose, you're in business.

– By Joe on May 23, 2017

This canister is awesome .
My Grandkids think it is a minion

– By Amazon Customer on July 20, 2017
Professional Vacuum for the real enthusiast – Bosch VAC140A /
VAC090A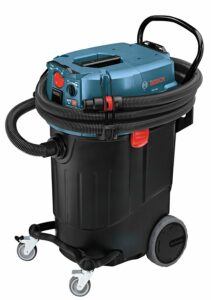 If you are a professional craftsman or just a hobbyist that wants only the best, then Bosh VAC140A is the vac for your shop.
It's a high-end professional vacuum with an impressive 14 gallon capacity that's meant to be the weapon of choice for those that value quality.
It comes with a bunch of great features:
Automatic filter cleaning
L-BOXX Integration
Wet vacuuming water level sensor
Power Broker Dial
Power Tool Activation
14 Gallon Capacity (9 gallon variant also available – VAC090A)
HEPA Ready
3 or 4 year protection option available
If you are serious about the work you do and you won't settle for anything else than the best, then BOSCH is the one for you.
Bosch VAC140A / VAC090A Buyer Reviews
Very impressed so far. Excellent suction,minimal issues with the hose clogging.

Ordered the paper bags and have been using it for old brick mortar (sand), wood chips, sawdust and general dust. The basement I am remodeling now is in 120 year old house in coal country and everything is totally filthy with coal soot and dust. Working in construction my whole life the older I get the less I can tolerate dust and crappy, noisy shopvacs.

So I decided to drop some coin and go with the Bosch over the Fein or Festool. I have used both the Fein and Festool, the Fein has gone down in quality, the festool is just too expensive especially for bags and accessories. The Bosch bags are 3 bucks each on Amazon (5 pack for about 15 bucks).

The filter seems to stay pretty clean with the paper bags I haven't tried the plastic or reusable felt bag yet. I did order the reusable bag I just haven't tried it yet, the dust is so nasty I thought I better use the paper. Just remember to turn off the auto filter clean when using any bag the instructions say it will destroy the bag. Kind of an annoyance I am sure I will forget at some point.

Anyway, best vac I have owned in my career!

– By JT on September 8, 2016
Super unit!

I've been sitting back looking at dust extractors for about a year. I was ready to pull the trigger on a Festool unit when this new Bosch item came up.I own a number of Bosch hand tools and have been very pleased with the quality.

I'm impressed with the unit's quietness while developing great suction. Nice to have the HEPA capability if I need it. Automatic filter cleaning sounds funky but not objectionable. Auto start feature w/ other tools is a great feature. I'm doing a fair amount of sheetrock work, so I've purchased an Oneida centrifugal filter to run in combination with the Bosch unit…

Works great.

– By R. Billings on August 19, 2014
The Verdict
Both of these two vacuums are an excellent choice. The only factor to decide between them is – your needs.
If you are on a budget and can live without having the ability to use power tools over 6A, then Kracher WD5/P will give you all you need for the price you can afford.
On the other hand, if you don't want any limitations and want to have a premium quality tool from a world famous brand then you should go for the Bosch VAC140A or VAC090A without any second thoughts.
In either case, what's important is that YOU are satisfied with the shop vac that suits YOUR needs!